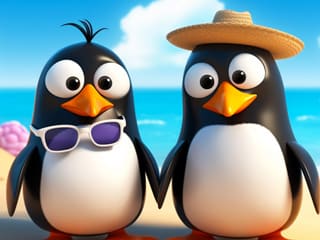 Jigsaw Puzzle: Sunny Penguins

Jigsaw Puzzle: Sunny Penguins
Jigsaw Puzzle: Sunny Penguins

What is the feature of the hot summer? Sunshine? Beach? We offer you a sunny beach in this fun jigsaw puzzle game, with two adorable penguins friends! Play this game and challenge your puzzle skills!
Free Jigsaw Puzzle for Kids
As a popular casual game, jigsaw puzzles can help children relax their brains and improve their observation and concentration skills. Sunny Penguins offers several difficulty levels, suitable for players of different ages. Whether you are a beginner or an experienced puzzle player, you can choose the difficulty level that suits you.
Beautiful Images and Challenging Puzzle
The images of Sunny Penguins are beautifully designed to catch the eye. Each level has a cute little penguin theme with lively expressions. These images not only give you visual pleasure but also stimulate your imagination. From simple 12-piece puzzles to complex 54-piece puzzles. Can you quickly find the correct position at each level?
How to play Jigsaw Puzzle Games
Use the left mouse button or tap the screen, and drag to move the jigsaw pieces.
Artwork Download
Click

in the game so you can download and save your perfect artwork in time. Name it whatever you want and leave it as your fond memory!