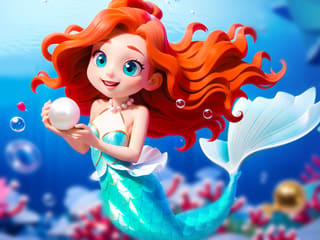 Jigsaw Puzzle: Pearl Mermaid

Jigsaw Puzzle: Pearl Mermaid
Jigsaw Puzzle: Pearl Mermaid

In order to experience love, use her beautiful singing voice in exchange for legs that walk like on the tip of a knife. Is the brave little mermaid your favorite fairy tale? Open the game and wander in the beautiful underwater world!
Free Jigsaw Puzzle for Kids
Pearl Mermaid is a classic jigsaw puzzle game for kids of all ages. The game takes the pearl mermaid as the theme, and provides multiple jigsaw puzzles with different difficulty levels for you to choose from. Each jigsaw puzzle consists of dozens of small puzzle pieces, challenging your patience and observation skills to the limit. When you encounter difficulties, you can click the button to enable prop assistance to help you spell out the perfect image more easily.
Beautiful Images and Challenging Puzzle
The images in the game are carefully selected and designed, and the realistic colors and exquisite details will bring you a unique experience. Whether it is the crystal clear underwater world or the beautiful and pure pearl mermaid, it will bring you visual satisfaction and pleasure.
How to play Jigsaw Puzzle Games
Use the left mouse button or tap the screen, and drag to move the jigsaw pieces.
Artwork Download
Click

in the game so you can download and save your perfect artwork in time. Name it whatever you want and leave it as your fond memory!