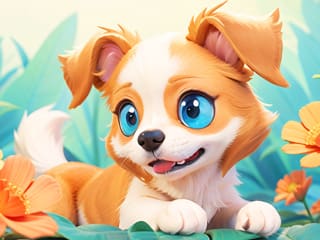 Jigsaw Puzzle: Dog And Garden

Jigsaw Puzzle: Dog And Garden
Jigsaw Puzzle: Dog And Garden

Boys and girls, come and play with this fantastic game! In the garden, a cute dog is playing with a butterfly. Jigsaw Puzzle: Garden Dog is a fun and educational option for kids who love puzzle games.
Free Jigsaw Puzzle for Kids
Based on traditional jigsaw puzzles, the game helps kids develop their observation, spatial cognition, and problem-solving skills by offering puzzles of various difficulty levels. Jigsaw Puzzle: VocaVoca is more interactive than traditional paper puzzles. Stimulate children's imagination and creativity.
Beautiful Images and Challenging Puzzle
The game provides a variety of puzzle patterns to help children recognize various fruits, and the cute painting style can stimulate children's interest and increase their game experience.
How to play Jigsaw Puzzle Games
Use the left mouse button tap the screen, and drag to move the jigsaw pieces.
Artwork Download
Click on the game to download and save your perfect artwork in time. Name it whatever you want and leave it as your fond memory!