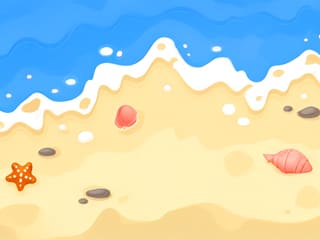 Jigsaw Puzzle: Beach

Welcome to the ultimate beach getaway! Get ready to immerse yourself in the beauty and tranquility of the coast with our Beach jigsaw puzzle game. Whether you are a puzzle enthusiast looking for a new challenge or someone seeking a peaceful escape, this game can transport you to the sun-drenched shores and sparkling waters. As you piece together stunning beach scenes, you will feel the warm breeze, hear the gentle crash of waves, and marvel at the vibrant colors of the sandy shores. Let the relaxing sounds of seagulls and the rhythmic tide guide you on this delightful puzzle-solving journey. So grab your sunscreen and prepare for an unforgettable beach experience – without leaving the comfort of your own home. Let's dive in and soak up the joy of the beach with our Beach jigsaw puzzle game! Jigsaw Puzzles: Sweets let you have fun and exercise your brain!
Free Jigsaw Puzzle for Kids
Jigsaw Puzzles is a puzzle game specially designed for kids. you can complete the whole picture by dragging the puzzle pieces into the correct position. After playing this game, it can improve your hands-on and observation abilities and stimulate your imagination and thinking ability.
Beautiful Images and Challenging Puzzle
Jigsaw Puzzles: Baby Shark provides multiple game scenes for kids to choose from. Including their favorite Baby Shark! In the process of exploring, kids can also learn and recognize various animals and objects, broadening their horizons.
How to play Jigsaw Puzzle Games
Use the left mouse button or tap the screen, and drag to move the jigsaw pieces.
Artwork Download
Click

in the game so you can download and save your perfect artwork in time. Name it whatever you want and leave it as your fond memory!