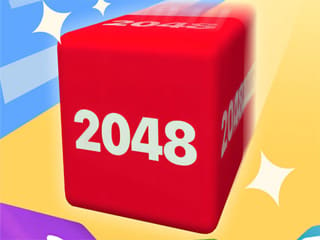 Chain Cube 2048 3d

Chain Cube 2048 will challenge your strategic thinking and problem-solving skills. The objective of the game is to merge identical numbered cubes to create a higher number, with the ultimate goal of reaching the coveted 2048 cube. Swipe your finger or click on the screen to make the cubes move in the desired direction. When two cubes of the same number collide, they merge into a single cube with double the value. Enjoy yourself!
Free Puzzle Game for Kids
Chain Cube 2048 3D is a puzzle game specially designed for kids. It is a great way to test your problem-solving skills and your reflexes. The game is also a great way to relax and de-stress. If you are looking for a fun and challenging puzzle game, then Chain Cube 2048 3D is worth checking out.
Tips for playing Chain Cube 2048 3d
Plan ahead. Before you make a move, take a moment to think about how it will affect the rest of the board. Try to make moves that will create as many merges as possible. Be patient. It may take some time to figure out the best way to play the game. Don't get discouraged if you don't win right away. Just keep practicing and you will eventually get better. Have fun!
How to play Chain Cube 2048 3d Game
Use the left mouse button or tap the screen to play.