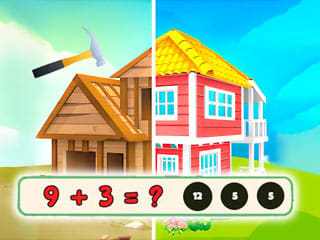 Build Your Home

Build Your Home is a free online math quiz game. In the game, you will have the chance to witness the transformation of your exclusive house from nothing into a luxurious villa! From choosing the type of house to decoration, create a perfect home step by step.
Create Your Own Home
The game provides a variety of building and decoration options, and you can use your imagination to build a unique house according to your preferences. Experience the construction of the house first-hand, explore freely, and fully develop your planning ability and imagination.
Entertaining and Educational
This game brings you not only fun, but also a learning chance. In the game, You only need to answer simple addition, subtraction, multiplication and division questions to pass the Math quiz. As a reward, you can unlock various house parts, such as house shapes, colors and materials. Start the game now. Give your home a personal touch!
How to play Math Quiz Games
Use the left mouse button or tap to choose the correct option.